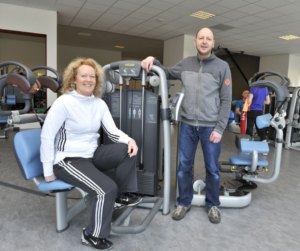 Sinds 2009 runnen wij, Petra Gelens en Cor Govers, met passie Club Actief in Den Bosch. Een familiebedrijf.
Onze slogan geeft in enkele woorden weer, waar wij voor staan: Healthy Fitness for People. Bij Club Actief stellen we de mens centraal.
Plezier en energie
Verantwoordelijk, veilig en vertrouwd. Dat moet het voor onze klanten zijn. Bij ons geen massa, maar persoonlijke aandacht en naast inspanning ook de nodige ontspanning. Ons klantenbestand is heel divers en daar zijn we blij mee. Jongeren, ouderen, fanatiekelingen en startende sporters… iedereen voelt zich thuis bij ons. Niet in de laatste plaats, omdat wij vinden dat sporten je vooral plezier en energie moet opleveren.
Ondersteuning en advies
Je revalidatie voortzetten kan onder deskundige begeleiding en in alle rust bij Club Actief. Maak daarvoor een afspraak met ons, zodat we de mogelijkheden met je kunnen doornemen.
Wil je een gezondere leefstijl ontwikkelen en behalve meer bewegen ook bewuster met je voeding omgaan? Dan kan Petra je vanuit Club Gezond ook daarbij ondersteunen. Van eenmalig advies tot een begeleidingstraject inclusief personal training is daarbij mogelijk. Als ervaren en gediplomeerd gewichtsconsulente heeft Petra de afgelopen jaren met vele deelnemers goede resultaten behaald.
Team instructeurs
Club Actief werkt met een klein team van instructeurs, die een deel van de groepslessen verzorgen. Petra is daarnaast zelf ook regelmatig voor de groep te vinden.
Sporten en ontmoeten
Samen sporten is leuk en motiveert. En soms wil je na je workout gezellig even napraten met je medesporters. Bij Club Actief hechten we veel waarde aan dat sociale aspect van sporten. Daarom hebben we middenin ons fitnesscentrum verschillende zitjes ingericht, waar je na het sporten nog even gezellig kunt genieten van een kop goede koffie of een shake.
Spreekt dit je aan? Dan nodigen we je graag uit voor een persoonlijke rondleiding. Bel of mail ons. We bellen je snel terug!
Cor & Petra